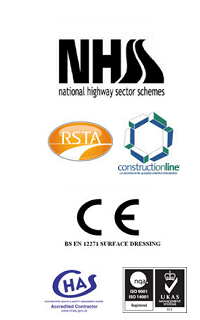 Surface Dressing Contractors Hampshire
Are you sick and tired of bumpy pot holed roads due to the adverse conditions?
Are you put off by high cost alternatives?

Saunders Surfacing specialise in affordable stone overlay systems onto existing tarmac and concrete surfaces, giving you a cost effective, durable and environmentally friendly surfacing solution. Avoiding the need for removing and disposing of your existing surface and therefore saving you money. We have a dedicated team of surface dressing specialists to provide for all your surfacing requirements, both industrial and commercial. Saunders Surfacing Ltd. is based on the South coast and offers nationwide coverage.
Offering Nationwide coverage


Full Written Quotations Offered


Latest Machinery & Techniques


Competitive Rates


Friendly Reliable Service


Skilled Workforce



Industrial Estates


Courtyards & Driveways


Pubs & Hotels


Caravan Parks


Farm Roadways


Schools


| | | |
| --- | --- | --- |
| Durley Hall, Southampton - Before Treatment | | Durley Hall, Southampton - After Treatment |
| Before Treatment | | After Treatment |
Eco Roads
Eco Roads is a subsidiary company of Saunders Surfacing Ltd who specialise in affordable roadway solutions. Eco Roads is an environmentally friendly process as the product used is recycled tarmac road planings and the method we use makes Eco Roads a cost effective and high quality alternative.

If you would like to know more about our Eco Roads product please click here to go to our website.

Due to the worst winter weather in decades there has been a severe breakdown and cracking of many existing surfaces. Now is the time to repair, refresh and preserve your road to prevent the cost of complete replacement.

Phone 0800 061 2693 to contact our friendly staff now or use this contact form for FREE advice or to arrange for a FREE no obligation quotation.



Domestic Driveway Resurfacing
Why not give your home or project some new curb appeal by resurfacing your driveway? You may visit our Domestic Driveway Resurfacing site at: www.drivewayresurfacinghampshire.co.uk